For Kristina Zeis '99, a fascination in the workings of the brain has led to rewarding work with at-risk youth.
Kristina Zeis
Class of 1999, General Studies
---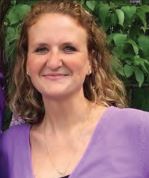 "As a General Studies major at HCCC, I began picking up psychology classes and fell in love with the study of psychology," Zeis explains. "I was fascinated with the brain, development and why people do what they do."
This fascination, combined with a desire to attend another small school, prompted Zeis to earn a bachelor's degree in psychology and a master's degree in educational psychology from the College of St. Rose. It was during this time that she completed an internship at a residential home in Albany. "It was my first window into child welfare," she says. "I knew it was what I wanted to do for the rest of my life."
Zeis continued to work with the home and its agency for several years, then moved to a different agency. She is currently Vice President of Residential and Group Home Services for the Berkshire Farm Center and Services for Youth.
"I'm currently working at the residential campus, so I spend a lot of my time there," she says. However, the agency also services six group homes in New York, and Zeis finds herself traveling across the state on a regular basis. "I oversee everything," she says, "but I still get to interact with the kids, to talk with them. I help to teach them life skills, things that will help them get a job. Emotional management, how to make good choices."
The children Zeis works with may have committed misdemeanors, or they may be facing neglect at home. "I believe strongly in a prevention mindset," she says. "We try to keep them in their own homes whenever possible. When that's not possible, they come to our group homes. We try to keep them the shortest time possible – teach them life skills so they can get jobs, be good citizens."
As a high school student, Herkimer College was a natural choice for Zeis. "I wanted to stay close to home, save some money, and decide on my future plans," she says. Two memorable, inspirational professors were Dr. Lynn Martin and William Pelz. "Dr. Martin asked so many questions and was an active listener. He intently heard and reflected back what you said. He had an ability to reflect back your emotions to help you become more aware.
"Dr. Martin also taught self-reflection and integrity through his grading system. Asking students to grade themselves and to be fair with you."
While Zeis has a busy schedule, she finds great fulfillment in her career. "I like watching children and families grow," she says. "It's the most rewarding part of my job."