Brett Helmer '92 has hit home runs in nearly all of America's MLB stadiums— with a softball.
Brett Helmer
Class of 1992, Physical Education
---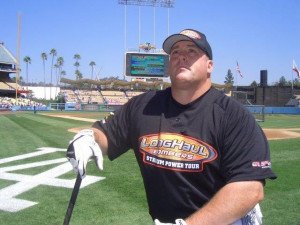 A major level softball player, Helmer has played in 21 United States Specialty Sports Association (USSSA) Men's Major World Series. He was a member of 37 national championship teams, and is a five-time national batting champion.
Helmer didn't start out playing softball. In high school he played baseball and first played softball as a favor to his best friend's older brother.
He played baseball at Herkimer College where he studied physical education and health. His favorite teacher was Paul Wehrum. "He was a great guy. It was fun to watch him interact with his class. He's someone you don't forget."
After Herkimer, Helmer transferred to Eastern Connecticut State University, pursuing a degree in education. There, he stopped playing baseball in favor of competitive weight lifting. "I was traveling all over the country competing; even as far as Spain and Morocco." Still, Helmer continued to play softball, gradually working up to bigger and better-known teams.
"By 1993, I was traveling across the country, moving up classifications with better and better teams." In 1996, Helmer entered major-level softball.
Helmer was sponsored by Louisville Slugger, and then became a sponsored athlete of Easton Sports in 1998. As a sponsored athlete and independent contractor, he worked closely with the company, and in 2007, he was offered a permanent position as National Sports Marketing Manager for softball.
"I'm in on the spring training, handle the sponsorships," he explains. "Some people are looking to be sponsored, and we pursue teams and players who can help spread our brand." Helmer works from his home office in Cicero, New York, and travels about 150,000 air miles every year. "It's mostly inside the US, but that's still a lot of miles," he says. The teams play from April to October. Even in the offseason, Helmer is interacting with athletes, attending association meetings, and going to promotional events.
In 2007, Helmer was inducted into both the USSSA New York State and National Halls of Fame.
A few of his favorite memories? "I got to play on the inaugural USA slow pitch team; we were live on ESPN. It was incredible to know that there were millions of households watching us." Helmer also recalls being the very first person to hit a ball out of the Great American Ballpark in Cincinnati. "I hit it right out of the stadium and into the Ohio River," he chuckles. "Adam Dunn hit a ball out of that stadium about a month later. We heard about it and were like, 'That's not big news; it's happened before'."
Helmer is still in awe of it all. "This wasn't what I planned on," he confides. "I was headed in a different direction. But it's been awesome, incredible."