Alumni Stories
Michael LaCrosse
Class of 1988, A.A. Liberal Arts and Sciences, General Studies
---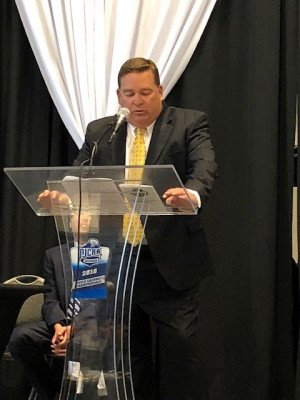 "Besides marrying my wife," says Michael LaCrosse (88'), "going to Herkimer College was the best decision of my life." It worked out for him in more than one way: besides earning a degree in General Studies, LaCrosse also was part of the team that won HCCC's first ever national lacrosse championship.
He would win more accolades, both from before and after his time with the Herkimer team. "I was inducted into my high school's hall of fame, and the 1988 team was inducted into HCCC's Sports Hall of Fame." He was also the National Junior College Player of the Year in 1988, scoring 95 goals and 24 assists, as well as All American and East Coast Conference MVP the next year.
LaCrosse's sports career started in high school, breaking records in both lacrosse and football. His high school coach, John Johnson – a hall of fame coach – took an interest in him. "He met Coach Paul Wehrum at a lacrosse clinic in Pennsylvania and told him that he might be interested in me. My parents and I drove up to meet Coach Wehrum during the summer. He showed us over the fields and what not. Before we got on the Thruway to go home, we – my parents and I – all knew that this was the right choice. Coach Wehrum is totally the reason I went to Herkimer College."
Wehrum not only supported LaCrosse through college, but also after he had completed his studies. "When I was being inducted the high school hall of fame, he introduced me."
Wehrum also remembers LaCrosse. "I had the opportunity to see him live during high school," he recalls. "He was the best player on the field. I was his coach at HCCC. He was the leading scorer in the country his sophomore year at Herkimer. His success has continued – on the field and then in business. He's a great dad; a great business person; a great friend. I couldn't be prouder. He is a well-deserving individual."
Another professor that had a profound impact on LaCrosse was Raymond Lenarcic. "He was very active with the Vietnam vets in the area. He took us with him, and we got to know some of them. We learned that we were lucky to be in an era without a draft. He made me think about other people and their problems. I grew up without these kinds of issues. These guys were hurting still years after the war. He was a really good guy; a really good professor, and he cared about other people and taught us to do the same."
Fellow teammates also inspired and supported LaCrosse. "There were so many great guys there; so many deserving of this honor. We all knew the quality of the team; we didn't talk about it, but we all knew it. There were a vast array of kids on the team from different economic backgrounds and different regions along with different educations levels; it pretty much represented a cross section of the US at that time. But we connected somehow and made a great team." When the team reunited to be inducted into the HCCC Sports Hall of Fame, "we really picked up like it was before – just great guys, great teammates – the bond between the players was still strong."
After Herkimer, LaCrosse received a full athletic scholarship to Hofstra University. His first year at the college was, in his own words, "fantastic." "We had a big win against the University of Virginia. I set the record for most single-game goals – I scored 10 goals. I was in Sports Illustrated and I got to try out for the US World Team that year." But his second year didn't fare as well, as he injured his knee during the first game of the season. "That was pretty much the end of my sports career."
Even in high school, LaCrosse knew he was going to be in sales. "That's what my dad was. He started a company in 1973, E.F. LaCrosse Sales, Inc. We serve the automotive industry, OEM, and large Tier 1 industries." The firm connects companies selling highly engineered metal and alloy products to the companies that need those raw or processed materials, such as Delphi and General Motors. "They basically hire E.F. LaCrosse Sales to run their sales and marketing divisions."
LaCrosse graduated from Hofstra University with a degree in Business Administration, but his father suggested he not jump directly into E.F LaCrosse Sales. "It was a smart move on my dad's part," he says. "I worked for other bosses, other people, for about eight years." LaCrosse is now President of E.F. LaCrosse Sales.
"If there's one thing I want to get across in this interview," LaCrosse concludes, "it's that if there's any high school student, or anyone for that matter, who doesn't know what they want to do after high school, they should try Herkimer College. I know it was the best decision I made. They will learn to live on their own, to study, and start to grow up a little bit. I think of my time at Herkimer and my teammates and Coach Wehrum often. It's been over 30 years since I graduated and I know still that I made the right choice. It's just a special place."