Alumni Stories
Dr. Kevin M. Kress, PT, DPT
Class of 2000 - A.S. Liberal Arts and Sciences: Science, Class of 2002 - A.A.S. Physical Therapist Assist
---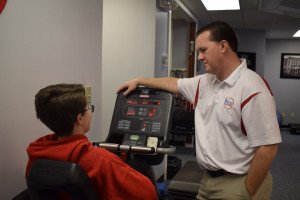 From the time he started college, Kevin Kress' goal was to become a physical therapist. "In high school, I was very involved in athletics and had a love for sports," he explains. "However, I knew being a professional athlete was not a realistic career choice for me."
Kress considered careers that allowed him to stay active and work with athletes. A family friend took him to the Little Falls Hospital rehab department, and he discovered physical therapy. "I immediately fell in love with the profession," he recalls. "I was amazed at everything you could do to help people who were injured or in pain, and help guide them back to normal life."
For Kress, Herkimer College was a natural option – affordable, and only 20 minutes from his house, and the school also offered a Physical Therapist Assistant (PTA) program.
Kress recalls one of his first professors, Paul Wehrum. "While I never played a sport for Coach Wehrum, I was lucky enough to be in his freshman seminar class… [he was] passionate about the college and academics, instilling in us about developing a good work ethic and realizing that at that stage we were now adults and how important it was for us to take responsibility for our own actions. To this day, I feel my work ethic, attitude, and approach to life was influenced by the few weeks I spent in that class."
Kress was also influenced by the late Dr. Robert Dorrance, his first biology professor, and anatomy instructor Rebecca Ward. "If you are to become a physical therapist, anatomy is a major part of your career. She helped me realize I love anatomy."
Kress earned his associate degree in science in 2000, followed by another associate degree in PTA in 2002. With more than enough transfer credits, and the practical hands-on experience from the PTA program, he enrolled at Utica College to pursue his bachelor's and doctorate degrees in physical therapy. While at Utica College, he worked for Function Better Physical Therapy as a PTA, where he continued working for eight more years as a clinical manager after earning his doctorate degree in Physical Therapy in 2009.
During this time, he also taught classes at Herkimer College. "We often act as educators to help [patients] understand their condition and how we will help them. Sometimes you have to break it down to terms to help them understand what's going on without using too much medical terminology. I used this same approach with my students when they were struggling with a topic. I absolutely loved the teaching aspect and sharing my knowledge with students who were enthused to join the profession and start helping others."
While Kress enjoys teaching students, he admits his passion is in the clinic treating patients. In February 2018, Kress opened his own clinic, Kress Physical Therapy, in his hometown of Little Falls, NY. "I was already well-established in the area, and it felt natural to serve the community where we live," said Kress, who also finds himself getting more involved in the community now through organizations such as Rotary, the Elks Club, youth sports programs, and local schools.
Kress Physical Therapy treats all conditions with a focus on orthopedics (shoulders, knees and spine), and patients range from three months to 95 years old. The clinic also provides concussion treatment, as Kress is certified in concussion management, which is also helpful in that he provides services to local schools and some sporting events. Kress' staff includes himself and another doctor of physical therapy, two physical therapist assistants (both are Herkimer College alumni), and an office manager.
Though he's not currently teaching classes, Kress hosts PTA students as interns at his clinic, and he also delivers guest lectures on occasion. He sees the internships as a win-win for both the students and himself. While students have an opportunity to gain practical hands-on experience, Kress sees it as an opportunity to learn as well. "It helps to keep me sharp," he admits. He finds himself thinking more critically when he has to explain things to a student. "When teaching somebody, I get a lot out of it, too."
Kress is grateful for the opportunities he's had with Herkimer College, and is particularly proud of the PTA program, which has had a 100 percent job placement rate for the past three years. "I think it's one of the best two-year degrees available."