Alumni Stories
Brittany Varin
Class of 2010 - A.A.S., Fashion Buying and Merchandising
---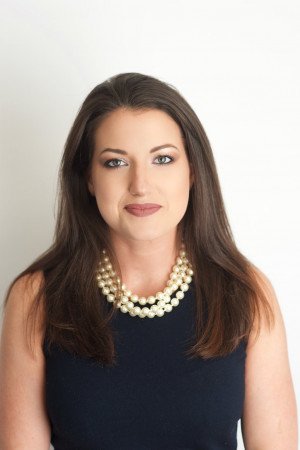 Fashion Degree Leads to Worldwide Adventures
Cazenovia College - Cum Laude BPS Fashion Merchandising, Fashion Design minor
University of the Arts London, London College of Fashion MA with Merit, Fashion Entrepreneurship
Brittany Varin has taken her fashion degree across the world – most recently to China, where she is a fashion lecturer at Huizhou University.
In high school, Varin was already interested in fashion. "Looking back, I probably should have gone the route of fashion designer," she recalls. "But I couldn't draw, so I figured, 'that's out'." She considered several schools, including the Fashion Institute of New York. "I decided to go the 'small-town girl' route," she says. "I'm so glad I chose Herkimer College."
Besides Herkimer being a quality school, Varin found personal friendships and personal enrichment. "I still talk to so many people from HCCC. Even if we haven't met in a while, we can talk about anything, everything. I excelled there, grew there." In 2009, Varin received the SUNY Chancellor's Award for Student Excellence for her academic performance and campus involvement, including her work the Fashion Club.
Several of the professors also had major impacts on her. Henry and Donna Testa both inspired her. "They had such good personalities. I loved Mrs. Testa's hair, the way she dressed, and so on." She also recalls Guy Devitt. "He had so much belief in me and for my life. His personality is so striking, so positive. I had to do a speech, and he came up to me afterwards and said, 'You should work part time here.' When you're young, and someone believes in you like that, it gives you so much confidence – it makes a moment where you know you can succeed."
But it was fashion professor Janice Jenny who made the biggest impression on Varin. "I love Mrs. Jenny," she says with feeling. Later, when she found herself teaching fashion history in China, Varin reached out to her former teacher. "I said, 'I need any help you can give; I've never taught at the college level before.'"
After completing her bachelor's in Fashion Merchandising at Cazenovia College, Varin worked at a bridal shop near her hometown of Chazy Lake, New York. "I loved the position," she recalls. "I love the realm of bridal – the extravagance. I could make the design bold. There's no defining lines in bridal because each bride is different." One of her favorite parts of the job was attending the fashion shows as a purchasing agent.
Varin also personally sold the dresses to brides-to-be. "You have to make the bride feel like a friend. You have to meet her on a personal level. She is buying a dress that she is never going to wear again. Sometimes, as women, we're so hard on ourselves – we don't like our arms or our bellies or whatever. So we have to be reassuring; to let them know that they are beautiful and they will be beautiful on their wedding day."
Varin interned in New York City, via a reference from Erin Kavatchitch Frias, another Herkimer College graduate. "There is a stereotype about working in fashion, but it wasn't true in this company. Everyone was helping each other and they were so kind." The company offered Varin a job, but she chose to enroll at the London College of Fashion to pursue a master's degree in Fashion Entrepreneurship.
After returning to the states, Varin began working at a scarf company in upstate New York. "I learned a lot however, the environment just wasn't right for me," she explains. "I couldn't wait to get out. But I thought, 'The job market is tough right now.'" So, she decided to teach English in whichever country she could find a position. "I thought I would teach abroad, have an adventure. My recruiter told me about a position in Huizhou University [in southeastern China] teaching fashion. I said, 'Wow – seriously?' because it seemed too good to be true. Fashion has my heart. I was wary at first, because it was too good to be true. I had wanted to go to China, because I thought it would be a challenge – and it is."
Ironically, the first class Varin was asked to teach was the History of Fashion – one of her favorite classes at Herkimer. Feeling a bit overwhelmed to be teaching on the college level, Varin reached out to her former professor, Janice Jenny, for help with lesson plans and other practical aspects of teaching fashion.
The challenge of teaching at Huizhou University is real, but Varin is loving it. "The first day, the students were just sort of looking at me like, 'We don't know what you're saying,'" she recalls. "I thought, 'They've been learning English for 10+ years, they'll understand me.' But after school, you know, if you don't use it, you lose it. The textbook was in Chinese, so they were a bit surprised to learn that the lectures were in English." Varin restructured her lesson plans and worked with her translator between sessions to make sure the students would get the most out of the lectures. "We've made great strides," she says proudly. "The students are understanding the material. We're doing ok, now."
Another major challenge of living in China is the language barrier. "Huizhou City is a smaller city. I can get the culture ok. But I can't read the characters. It's not like being in, say, Italy, where you can at least read the word [even if you don't understand it]. It tests my English, too – I have to make sure I use the right tense and spell the word right, or my students may not understand what I'm saying."
Her favorite part of living in China is exploring the culture and the food. "There's no General Tso chicken, or sesame chicken, or egg rolls, or anything you would find at a Chinese restaurant in New York," she says. "It's very different. But it's very good. It's better, really."
For Varin, Herkimer College was the beginning of her adventures. "Herkimer holds a special place in my heart," she says. Those adventures currently have her in China, but she looks forward to where it will take her in the future.