Alumni Stories
Meagan Bedell
Class of 2019, Pre-Employment Police Basic Training
---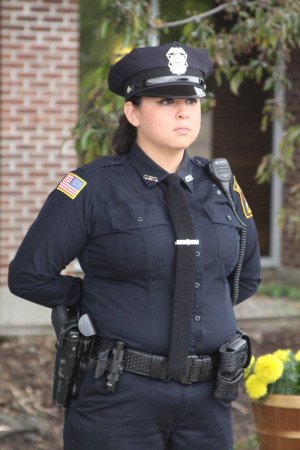 Meagan C. Bedell '19 (Fort Hunter, NY) graduated in the first class from the Pre-Employment Police Basic Training program at Herkimer College, in partnership with the Little Falls Police Department. Meagan said, "The program helped us prepare for over 50 different topics and situations that we will encounter as officers. This opportunity to experience everything from day to day activities to the most stressful of situations is really rewarding."
Meagan was the only female in the inaugural class and offered some words of advice for other women who aspire to start police training. "Law enforcement is one team, one family. The 15 other men I graduated with have always included me in everything...just like they would any other cadet," she said. She explained that the family and team mentality that thrived in her class helps prepare cadets for working in a small group or police force.
Upon graduating from the Pre-Employment Police Basic Training program in June 2019, Meagan found employment as a part-time officer in the Canajoharie Police Department, and they will sponsor her next phase of basic training. Once completed with phase II of basic training, Meagan plans to gain full-time officer status.
For more information about the Phase I Pre-Employment Police Basic Training program, visit www.herkimer.edu/police.