Alumni Stories
Delaney Buckley
Class of 2014, A.A.S., Business: Sports & Recreation Management
---
Boston has found itself a winner!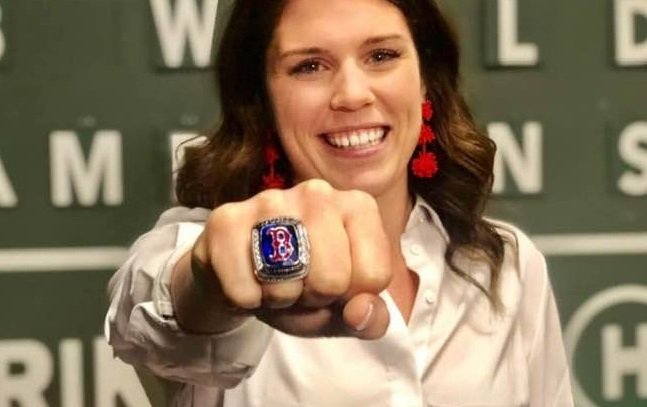 Championships just seem to be in Delaney Buckley's DNA. From a national championship ring at Herkimer College to one in the most successful sports city of the last decade.
Buckley came to Herkimer after a great high school softball career, and once she arrived, realized that sports are not the only reason Herkimer College is recognized nationally. She was able to get a jumpstart on her sports management degree due to the strong academic programs at Herkimer.
Buckley was named captain of the softball team that went on to win the first-ever softball national championship in the history of the program. It was an accomplishment that she had a tough time putting into words, but Buckley says she will never forget the bond the team shared.
Succeeding both on and off the field, Buckley said "As a student-athlete, there is a lot of expectations whether in the classroom or on the field. Coach Anadio always stressed academics first and stuck to it, we all received the help and support we needed in order to maintain our overall eligibility. No matter where you turned at Herkimer, there was always someone willing to lend an ear and offer advice."
Delaney graduated with honors and was awarded the SUNY Chancellor's Scholar Athlete Award for success in athletics and academics.
After graduating from Herkimer in 2014, Delaney transferred to SUNY Brockport and earned a bachelor's degree in sports management. Once searching for a job, she leaned on her experiences from college, whether it was the leadership roles she had from softball, or the work ethic learned from balancing athletics and studies. This helped her end up where she is today, working at NESN, the sports broadcasting station out of Boston, MA. As the national sales coordinator for the station, she manages national advertising campaigns that air during live broadcasts.
Delaney had another opportunity to be a part of a championship in 2018, with the Boston Red Sox winning the MLB World Series. She was able to attend games 1 and 2 at Fenway Park and described it as "Electric. . . Something I will never forget." Buckley is very happy with her chosen career. "I love working in sports as a whole because it brings people together, for something exciting," she said.