Alumni Stories
Francisco Brothers
Class of 1972, 1973, and 1976
---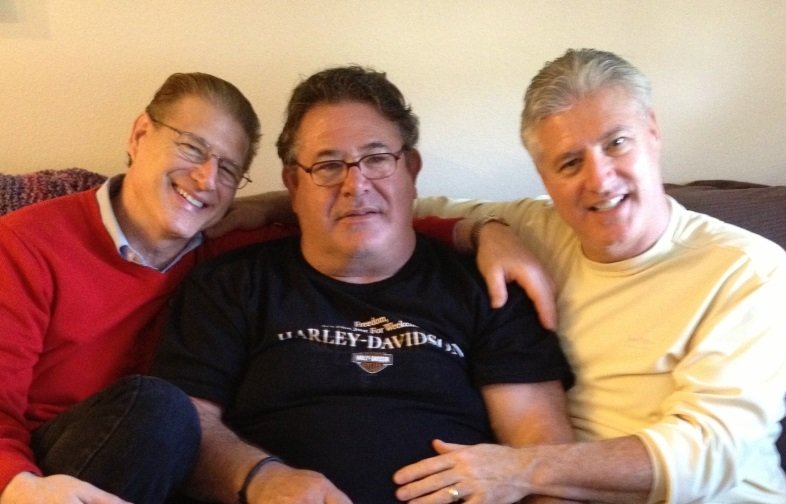 Herkimer College is Common Ground for Francisco Brothers
"I'm a firm believer in giving every family a chance," says Curt Francisco '72. "Herkimer College did that for my family." Curt – with brothers Glen Francisco '73 and Dean Francisco '76 – attended Herkimer College. All three agree that they would never have had the opportunities they enjoy today without their start at Herkimer.
But each took his own direction, in school and in life. The one piece of common ground in their educational pursuits, Dean recalls, is their parents' maroon 1964 Pontiac Catalina. "We all drove that car to school," says Curt.
"You know that hill to get up to the campus," Dean says. "On snowy days, I'd load up as many people as possible in the back seat and just go for it. It always got us up there. Sometimes we were the only car in the lot!"
Curt, as the oldest, was the first to attend Herkimer College. "I was in the last year that the college was in the Remington plant. I was there for my first year, and then the second year we moved to the new campus. So I was in the first graduating class 'up on the hill'." His decision to enroll at Herkimer was simple. "It was a financial reason. I would never have had the wherewithal to go to a four-year school at that point. It was a real blessing for me, and a real blessing for my parents."
Curt worked at the paper mill during the summers and was able to transfer to SUNY Oswego after graduating with his associate degree in social science from Herkimer. He worked in Syracuse briefly, then followed his parents to Florida. As one of the first certified financial planners in Florida, he founded Asset Advisory Services in Jupiter, Florida, and offers asset management, insurance, tax, business, and retirement planning services. "I've done quite well," he admits, humbly, while his brother boasts of Curt's work in helping one of the major finance networks become Investment Advisor Magazine's Broker/Dealer of the Year. "He has a passion to serve people," Glen says.
Curt also has a passion to help other families have a chance, like Herkimer College gave himself and his brothers. This has led him to financially support students at Herkimer College. "I thoroughly appreciate the efforts that HCCC does for its students," he explains. "Every once in a while, I'll receive a letter from a student saying 'thank you.' The young men and young women there are the ones who will be shaping the future. I'm very positive about that future."
Glen, as described by his older brother, is the "brainiac" of the family. After studying math and science at Herkimer, Glen applied to only one school -- Rensselaer Polytechnic Institute. He was accepted with a full scholarship. "A guidance counselor at HCCC helped me apply to RPI and helped me with financial aid; actually helped me fill out the application. People like that at HCCC laid the foundation for me to be successful. I used what I learned from that guidance counselor when I applied to MIT. I worked through graduate school, but I graduated with my master's degree debt free – thanks to the HCCC guidance counselor. All I needed was a chance – and HCCC gave me that chance."
Even before college, aviation was Glen's passion. As a teen, he would drive his parent's car down to the airport, then wash planes to earn an hour of flight instruction. Right out of college, he jumped into a career designing fighter jet systems, including for the F15 Eagle and the F18 Hornet. "I was designing the digital flight control system," he says, explaining that this is the computer relationship between the pilot and the plane.
Glen moved on to work for Boeing and Lockheed Martin. Then he became a certified firefighter. "I needed to understand what the fire market wanted in a hand-held thermal imaging device," he recalls. "Thermal imaging devices were used by the military; they can see through smoke. Now every firefighter, inside and outside the building, or even fighting a grass fire, will have a thermal imaging device. It's saved thousands of lives – both firefighters and others."
Glen's favorite memories of Herkimer College revolve around the people he met and studied under. "We had no idea the impact that math and science would have on the world, but we knew we were on to something special. There's something about being around greatness. It oozes. The college was new; we were still working out the kinks. But we were a family – and we knew we were going to do great things.
"HCCC had an incredible ability to find teachers for the students – they weren't necessarily Einsteins, but they were the right professors for the right students. When you can do that, magic happens."
Dean followed his brothers to Herkimer College. "My parents were basically like, 'Ok gang, you're all going to get a degree,' because of course they didn't have degrees." He studied business administration and management, but he struggled within the corporate environment. "My dad said, 'You're not happy. You need to do something you like. What do you like to do?' I liked working with my hands. I was always rebuilding motors and cars. My dad had gone into carpentry in the military, so he said, 'Why don't you join the military and see if you can do something like I did?'"
Dean entered the coast guard. "I was there for four years; I worked my way up to E5 2nd Class Petty Officer." In the coast guard, he found his true passion: refrigeration and air conditioning.
Dean worked in construction and maintenance and finally landed at the Kennedy Space Center. He worked on the Shuttle Transport System (STS), as well as HV/AC at the hangar and offices where the space shuttles were refurbished and out on Launch Pad A. He also helped test one of the Saturn V emergency escape slidewire baskets. More recently, Dean has been employed by the Canaveral Port Authority working on air conditioning for the terminals.
Dean also owned his own air conditioning business for many years. "The business degree from HCCC was so important. I know a lot of contractors who were really good and loved what they did, but they couldn't handle the business side of things, so their businesses failed. The knowledge of business from HCCC helped me so much."
Despite their personal and career differences, there's no question that the three brothers are still extremely close. They boast about each other's strengths and humility. "Dean loves people," Glen says. "The room just lights up when he walks in." Curt calls his brothers his "best buddies" and brags of what he calls Glen's "brainiac" accomplishments. Dean says, "My brothers have always been good to me. We never stopped loving each other."
Photo cutline:
Curt in his 1964 Pontiac 2+2 Catalina (not the original, which was maroon, but the same year).