Dedication. Compassion. Innovation. Human Services at Herkimer College
As the need for mental health and recovery services increases, Herkimer College is responding to this workforce demand with its innovative Human Services program.
Not only is the program increasingly relevant, but it is also groundbreaking in its CarePath™ Coach certification offering – a collaboration with the Mental Health Association in New York State (MHANYS). In fact, Herkimer College is the only SUNY school partnering with MAHNYS to include the CarePath™ curriculum. The certification is offered in the student's final semester of the two-year degree program.
CarePath™ supports the wellness of individuals in need, alongside their family members or chosen supporters, through the assistance of a Certified CarePath™ Coach. According to MHANYS, the certified CarePath™ Coach manages behavioral health conditions beyond what traditional treatment and discharge planning accommodates.
Since its launch in 2019, CarePath™ continues to gain acknowledgment through the New York State Office of Mental Health and has garnered state-wide and national attention for its relational approach to mental health and recovery.
According to Grace Ashline, associate professor of human services and program supervisor at the College, students who obtain CarePath™ certification are poised to enter the workforce or transfer to a four-year school with a greater advantage than those who don't pursue training. Students learn trauma-informed care and leave the program as certified mandated reporters. These credentials make them highly employable in the field.
Kler Moo K'tray Paw is one such graduate. She earned her CarePath™ certification and associate degree in Human Services in 2020 followed by a bachelor's degree in Community & Behavioral Health from SUNY Polytechnic Institute in 2022. She works for the Resource Center for Independent Living (RCIL) in Utica as a Consumer Directed Personal Assistance Program (CDPAP) coordinator.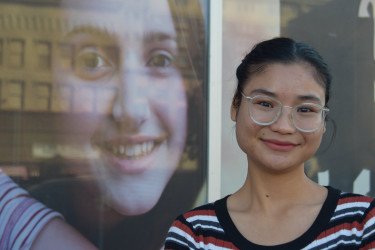 "I am providing support to people, mostly the elderly, who want to still live independently," says Paw. "CarePath™ taught me how to be the best advocate and to advocate for people to maintain freedom and choice in their lives."
For Paw, Herkimer's program was a natural fit. "I didn't know anything about mental health before joining the program, but I wanted to help people in the community," says Paw. I came here as a refugee, and many people helped me and my family, so I wanted to give back."
"I learned real life examples from Professor Ashline's class and the importance of choices when helping people. In my role at RCIL, I help people live and be the way they want to be."
Catholic Charities of Herkimer County has implemented CarePath™ training for employees, ensuring collaboration and a client-centered approach.
Melissa Snyder, director of Prevention and Recovery Services at Catholic Charities said, "CarePath™ follows the same principles that we utilize as certified recovery peer advocates and credentialed prevention professionals, and it made sense to add this additional skill to our toolbox. The training reinforced the core principals of person-centered services, with the goal of empowering individuals to improve their mind and body. Through our programs we work with youth and adults experiencing mental health and substance use concerns. CarePath™ provides us with another tool to help those we work with succeed."
Human Services graduates with CarePath™ certification become part of a state initiative with employment opportunities including peer support specialists and family advocates, youth peer advocates, and Credentialed Alcoholism and Substance Abuse Counselors (CASAC). Opportunities are available at hospitals, law enforcement agencies, and human service agencies, both in the non-profit and for-profit sectors. According to Ashline, this is only the beginning.
With the success and growth of MHANYS and CarePath™, changes are on the horizon. MHANYS recently developed a new program, Mental Health Community Partners (MHCP), an adaptation of CarePath™ for individuals with a higher level of mental health needs and experiencing a major life transition. To remain cutting edge, Herkimer College is creating a dual CarePath™ certification, including MCHP, to start in 2024.
The partnership between the Mental Health Association in New York State and Herkimer Community College is special for so many reasons, says the Director of MHANYS CarePath & Mental Health Community Partners Project, Deborah Faust. "The idea that students are leaving their college experience with a certification that brings a program to their community is powerful. But what is even more empowering is the students learn how instrumental their own health and wellbeing is when partnering with community members to support family mental health. The Herkimer students have provided some of the best presentations for their final certification requirements, and they always make me cry."
And while some alumni may have missed the CarePath™ track, they still credit Herkimer's program as eye-opening and transformative.
"The field of human services is very broad and with this degree you can work with almost any population at a variety of locations," says Heather Ulman '20.
"I think this program gave me the advantage of having people really pushing for me to succeed," Rebekah Groom '19 said. "There are days that are hard, and the program prepared me to not only get through those days but to know there's something better coming tomorrow. I feel like the program gave us the real-world perspective that we all need is to be the best versions of ourselves for those who need us."
Read the full 2023 Connections issue here.