Simple pleasures abound at faculty-owned Board Game Cafe
Matt Powers
Instructor, English
---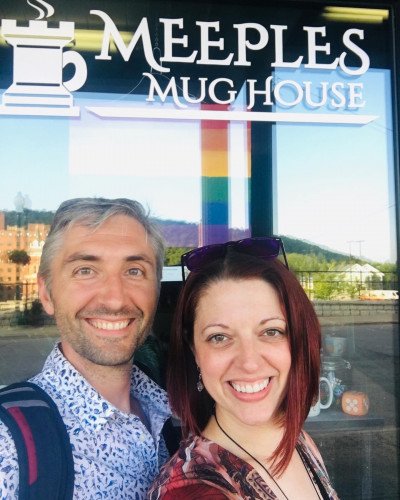 A Herkimer College faculty member and alum can now add "business owner" to his resume, after opening his own board game café in Little Falls, New York.
Meeples Mug House, operated by English instructor Matthew Powers '03, sits at 598 E. Main St. just 17 minutes east of campus and was a slow-burn calling for Powers. Powers said he's been interested in traditional board and theater-of-the-mind games – like Dungeons & Dragons – since he was an early teenager. The prevalence of board game cafés nationwide, mixed with input from his home board game sessions, made him curious about creating a new space in Herkimer County.
When former café Happy Waffle closed its doors at the Main Street location, it was almost like a calling.
"I knew in that moment, if I didn't go for it, I would have regretted it," Powers said.
While Powers doesn't have formal business training – he was a humanities student at Herkimer College and later went to SUNY Geneseo and the University of Rochester for a master's degree in poetry and theater – the fresh idea and support from the community has created a flourishing business.
The café is open in the evenings and afternoons four days a week. On top of its 150+ title board game collection, the space also sports a light menu with a variety of grilled cheese paninis (with on-brand names like "Game Piece Caprese" and "Nacho Turn Yet"), coffees, mug cakes for dessert and more. They also host monthly events like open mic nights, movie screenings, and Dungeons & Donuts, one-shot campaigns for anyone interested in playing dungeons and dragons.

While some may think a business around something as seemingly old-fashioned as board games has no lifeline in a world of virtual reality gaming and online player-versus-player capabilities, the markets show a different story.
Around 30 percent of millennials say they are interested in visiting a board-game themed café or bar, according to a report from market researchers Mintel. Arizton Advisory & Intelligence reported that the global board games market size is expected to reach values of over $12 billion by 2023.
But Powers said the biggest takeaway has been seeing the camaraderie build among strangers.
"By a half hour, they're all laughing and smiling and having a great time," he said. "That's an amazing trend I hope continues."
While he keeps the business quiet in the classroom, cautious of respecting the dynamics of being a faculty member, he said Meeples has opened doors for him to get through to more students. As he learns about their stories, the café and board games give him something non-academic for students to relate to.
"I think it helped humanize me, in a way," Powers said. "With students, that's really important."