Faculty & Staff Spotlights
Pepe Aragon
Professor-Physical Education
---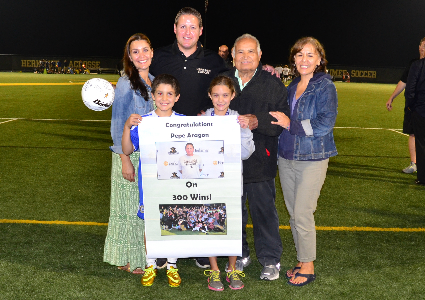 Class of 1991, Physical Education, A.S., Herkimer College

An opportunity can vary depending on the context. Some look for the opportunity to learn, while others take an opportunity to succeed. Nonetheless, for an opportunity to come about, a set of circumstances has to exist for it to be possible. In the world of athletics, more specifically men's soccer, no one creates a better opportunity for his student-athletes than Pepe Aragon.
Aragon is the head coach of the most storied athletic program at Herkimer College. Under his guidance men's soccer has collected seven national and 18 Region III and Mountain Valley Conference championships since 1998, establishing itself as one of the elite junior college programs in the country (In total, the program has 10 national and 27 Region III and Mountain Valley Conference championships since 1988).
Pepe credits his parents for his ability to lead by example. "My dad is Guatemalan where soccer is like a religion. He is one of the best coaches I have ever played for, and allowed me to fall in love with the game at a young age. As for my mom, she's a fierce competitor with an unbelievable work ethic. Combined, my parents brought my family up in an environment where you treat everyone with respect and be as honest as possible. It challenged us to push each other to be great!"
The family mantra instilled has led to some outstanding individual accomplishments, producing seven NJCAA National Players of the Year, 11 Region III Players of the Year, three Region III Male Athletes of the Year and more than 60 All-Americans. In return, many of his athletes receive academic or athletic scholarships to colleges and universities like Syracuse, Connecticut, Ohio State, St. John's, Boston, Coastal Carolina, Cornell, West Virginia, Temple, Binghamton, Albany, Clarkson, Lynn, South Carolina, Charleston, California State, Marist, SUNY Oneonta, SUNY Cortland and many more.
"We've done a good job preparing our athletes for the next level, not only on the field, but in every aspect of their life," said Aragon. "Coaching is no different than parenting. It's how you guide and push them (students) athletically, academically and socially to prepare them for a successful transition to a four-year institution."
Expectations are infused right when an athlete sets foot on campus. Aragon has an off-season program which begins in February, culminating in exhibitions with the likes of Syracuse, Hartwick, St. Bonaventure and Le Moyne. From there, a summer workout program consisting of strength training, long distance and sprint conditioning is mandatory so when the season begins in August his team is ready to compete. If that wasn't enough, Aragon also expects his athletes to hold their weight in the classroom once the semester starts, not accepting absences or tardiness through an initiative he calls 'Breakfast Club'.
"If I find out my athletes are late to class or absent (with the exception of illness), they have to show up for 'Breakfast Club' at 6 a.m. the following morning in the athletic building. For 30 to 40 minutes we have them do mop ups, sit ups and burpees. It's something I've done for a long time now, and we do it because we care."
Beneficiaries of Aragon's tutelage are recent Herkimer graduates Ben Polk and Korab Syla. Polk ('15) and Syla ('13) were Player of the Year honorees in their final year as captains. Each went on to play for Syracuse University, using Aragon's close connections with Ian McIntyre, the Orange's head coach, as a resource.
Both players helped the Orange to their first ever Atlantic Coast Conference (ACC) Championship and Final Four appearance this past fall (2015), finishing the season 16-5-4, one shy of the school record. Polk scored the game winner against Boston College in the Elite Eight of the College Cup, netting his 12th goal of the season in the 79th minute from a corner kick to defeat the Eagles 1-0 in regulation. It was the last goal Polk scored for Syracuse, leading the team in points (28) and goals in just 23 games played.
As for Syla, he didn't have the same offensive statistics but helped the senior class accumulate 56 wins, the highest total of any class in school history.
"I am so proud of what those two have done on and off the field at Syracuse," said Aragon. "Korab graduated in December and Ben was selected in the first round of the Major League Soccer (MLS) Super Draft in January (2016)."
It doesn't stop with Polk and Syla however, as Aragon recruits endlessly all over the world to help his program be the best that it can be. He feels there is always someone out there chasing him, and because of this, has a responsibility to his family, coaches and student-athletes to lead by example and learn as much as he can to stay ahead of the pack.
"My biggest fear is losing," stated Aragon. "That's what drives me. Former Generals coach and current Hamilton College Head Coach Perry Nizzi built this program from scratch. He set the foundation and standard of working as hard as you can to put yourself in a position to be successful. He wanted this program left in great hands, and I don't intend on letting him down. Give me any athlete, I can coach them!"
-Giorgio Varlaro