Faculty & Staff Spotlights
April Harris
Assistant Professor of Cybersecurity
---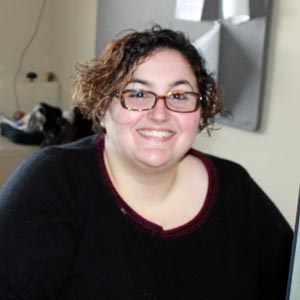 April Harris recently joined the faculty at Herkimer College as an assistant professor of Cybersecurity. Harris was a government contractor doing national security background investigations when she decided that was no longer for her. She had an interest in computers and decided to enter the field of cybersecurity. She found it to be a very interesting field to study so she jumped in with both feet. Harris said she had always had a desire to teach, that her original goal was to work for 25 years, retire and then begin teaching. However, at age 31, she realized she did not have to wait until she retired to do what she loves, she could start now.
Originally from New York, Harris moved to Connecticut at a young age and graduated with a bachelor's degree in Psychology from Central Connecticut State University and a master's degree in Criminal Justice from the University of New Haven. She later earned a master's degree in Cybersecurity with a concentration in Digital Forensics from Utica College in 2012. Harris began teaching at Herkimer College in the fall of 2014 and resides in the village of New York Mills with her husband and two dogs.
Although Harris loves the field of cybersecurity, she admits it is difficult being a woman working in a technology field. Coming from a nontechnical background, she had to learn a lot about technology. "Growing up as a young woman, the technology field is not usually the road that you go on," said Harris. "I had to get over the barrier of first having to learn about technology that wasn't immediately accessible in school, so I encourage my female students to go this route while they can. Generally girls fear science and are told it is a boys thing. Trying to take gender out of the field and making it a more neutral field is definitely something that needs to be worked on. There is a gap right now and it needs to be more accessible to girls." Though she is an advocate for females to enter the field, Harris encourages all students to learn about opportunities in cybersecurity.
As for her experience as a new professor at Herkimer College, Harris said "So far it has been terrific. I absolutely love it." As a new teacher, Harris admits she is still learning best practices for classroom management, but the overwhelming support by the faculty and administration at the college has made her transition much easier.
The most rewarding thing about being a teacher for Harris is "…when my students have the "ah ha" moment, when they try to figure something out and they finally get it, getting to see that is really cool." Harris acknowledges that some of the material she covers can be dry, so she explains to her students that she understands and does what she can to make the subject more enjoyable. She appreciates the positive feedback she has received from students.
Harris' advice to students studying cybersecurity is to "keep going and don't be afraid to fail." Harris tells her students, "A lot of times when a tool won't work, or you can't figure out the next step to take, document it, move on, and don't get discouraged if it doesn't work the first time."
Harris has a special fondness for Harry Potter stories. She said that the one aspect of the series that applies to cybersecurity is something that Mad-Eye Moody talks about -- constant vigilance. "In cybersecurity, we need to be constantly vigilant," said Harris. "The next intrusion can happen at any minute."