Faculty & Staff Spotlights
Andrew Devitt
Assistant Professor of English
---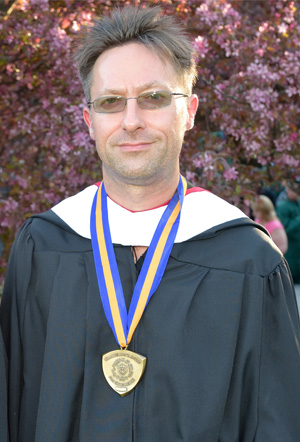 Education:
Master of Arts
A.A., Herkimer County Community College
B.S., Excelsior College
M.A. Seton Hill University
Honors & Awards:
SUNY Chancellor's Award for Excellence in Teaching
What inspired you to become an educator?
I believe in doing what you're good at, and when I was in sixth grade someone convinced me I was good at writing. Since both of my parents were teachers (my father is a Business Professor and my mother taught pre-K), it was something that was always in the back of my mind. The ability to write has made my life better, and I thought it could make other people's lives better, too. Any job where you have the chance to improve someone's life is a good deal.
What interests you most about the subject area in which you teach?
The fewer words you know, the fewer thoughts you can have. Teaching people to write more clearly also helps them to think more clearly. You can change how people see the world and how they express it for themselves. Language is always changing and evolving. It never gets dull. I teach creative writing. Stories are important. Our ancestors tried to make sense of the world around them through stories, through myths, through morality plays. Writing stories is not just about entertainment. You really discover how you feel about a subject by writing about it.
What attracted you to Herkimer College?
I graduated from Herkimer College in 1994 and went on to several different schools, but Herkimer was where I got my start. I had some of the best teachers of my life at Herkimer. It's about the students, not just who can bring in the most grant money. At Herkimer, all my teachers knew my name. They were accessible and approachable. They took the time to get to know you. And it's a beautiful campus. It really is.
What other roles do you play at Herkimer College (i.e. club advisor, coach, etc.)? Why is it important to you to be involved in that capacity?
Along with two of my colleagues, I am an advisor to the Phaethon, which is Herkimer College's award winning literary magazine. I have also advised the Writing Club and co-advised the Martial Arts Club. I think it is important for students to be able to connect with professors outside of the classroom, and club advising is a good way to give students additional opportunities to pursue something they're interested in. It also helps them build a portfolio/resume. What are your hobbies or interests outside of work? I'm a New York Times bestselling author, and besides writing, my interests include Batman, punk rock, and boxing.