Faculty & Staff Spotlights
Jennifer Herzog
Assistant Professor, Biology
---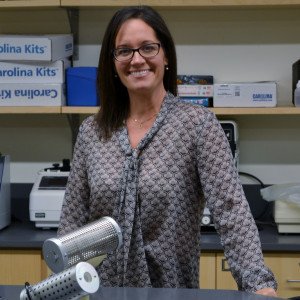 Education:
Utica College; Yale University School of Medicine
Professional Affiliations:
The American Society for Microbiology
Science Teachers Association of New York State
Board Memberships:
Mohawk Valley Teachers Association
Vernon-Verona Sherrill Education Foundation
Honors & Awards:
SUNY Chancellor's Award for Excellence in Teaching
The Genesis Group Outstanding Educator Award
Mohawk Valley 40 Under 40
What inspired you to become an educator?
My former elementary, middle, and high school science teachers—they were all knowledgeable women who clearly had a love for science and moreover made learning fun for everyone. My career plans were solidified by my undergraduate mentor and my teaching experiences while at Yale.
What interests you most about the subject area in which you teach?
Even though we cannot see them, the microbes in us, on us and around us are the most incredible life forms on the face of the planet. We are learning new information each day regarding microbial life, and my passion is to share that knowledge with students and the community.
What do students need to know in order to succeed in college?
In my courses, students realize they need to have presence—not just be "present"—each and every day. Being in class, whether on campus or online, means engaging with the material, interacting with classmates, and applying knowledge to create lifelong learning experiences.
What other roles do you play at Herkimer College (i.e. club advisor, coach, etc.)? Why is it important to you to be involved in that capacity?
I conduct research on the microbiome of local white-tailed deer populations as well as in local freshwater mussel populations. Moreover, I run several science clubs in local K-12 schools and even a science fiction book club at a local library—all to engage the public and develop an informed group of Citizen Scientists.
What is something that most people wouldn't know about you?
I am a lifelong Buffalo Bills fan.