Faculty & Staff Spotlights
David Higgins
Assistant Professor of Criminal Justice
---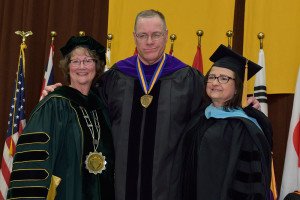 Education:
J.D. Western New England College School of Law. May 1987
B.P.S. (Criminal Justice) SUNY Utica/Rome. May 1984
A.A.S Cayuga Community College, Auburn, NY May 1982
Professional Affiliations:
Attorney in NYS. Admitted Appellate Division Fourth Judicial Department, January, 1988
Honors & Awards:
2017-18 SUNY Chancellor's Award Excellence in Teaching
What is something unique or important for people to know about your program?
I was hired full-time in the Criminal Justice program here at Herkimer College for the 2002-03 academic year. I believe that the thing that makes our CJ program unique is that all of our full-time faculty have both strong academic backgrounds and experience working in the field of CJ. I did criminal defense for 10 years. Bill Stack and Monica Hack have extensive law enforcement and crime analysis experience. Katie Stables was a Juvenile correctional counselor and April Harris has experience in cybersecurity and government work. I think that we do a good job overall of combining theory with practice. In other CJ programs, practitioners only work as adjunct instructors and full-time faculty are more focused on theory and research.
What inspired you to become an educator?
As I mentioned above, I did indigent criminal defense for several years and had had some success conducting trials and hearings. However, after several years of it I wanted to do something more positive than dealing with the possibility of clients going to jail and prison, and getting caught up in the cycle of addiction and violence. I had always had a general interest in teaching and any time in college that I had to explain and present something to a class it went fairly well. A couple of times when I was practicing law I spoke to high school groups about what I did and it was the best part of my day.
What do you enjoy most about teaching at Herkimer College?
I find the students here very interesting to work with. They come here from a variety of backgrounds, urban, rural, etc. Most of them have a general interest in the subject matter. I teach mainly the law courses in the program such as Criminal Law, Criminal Procedure, and Criminal Evidence. Many students find it difficult at first with difficult reading and odd Latin phrases to sort through. It is rewarding watching them improve as the semester progresses. In other words, watching the light bulb come on. I started at a community college many years ago. Neither one of my parents attended college. I definitely see parts of my earlier life in these students.
The other part of teaching here that I really appreciate is my colleagues. They are all dedicated to the success of the students and will go the extra mile if students are putting forward the effort. They are not only good professors but they are good people as well. I have worked in other professional environments but this one is the most supportive. You can easily pick their brains for ideas about teaching and classroom management. Also, when I have had difficult times in my life they have been there for me and that's something that I will never take for granted. My Associate Dean has been very supportive as well.
What do students need to know in order to succeed in college?
I tell my students quite often (They get tired of me saying it, undoubtedly!) is that College is supposed to be challenging. However, I also tell them not to make it harder than it is. I emphasize that in a college course you are getting the course as interpreted through the professor. In other words, if you read the assigned material, attend class, pay attention, review and see the professor for help if needed, chances are that you will succeed in that professor's class.
What are your hobbies or interests outside of work?
I enjoy day hiking, working out, reading (nonfiction), family history, politics, etc. In the summer I travel both domestically and internationally. I follow SU Football and Basketball. My colleagues are aware that I am a huge baseball fan, namely a long suffering fan of the Cincinnati Reds. It's a bad addiction but perhaps it has helped me develop the patience needed for teaching!