Faculty & Staff Spotlights
Rabab Hassan
Assistant Professor of Electrical Technology
---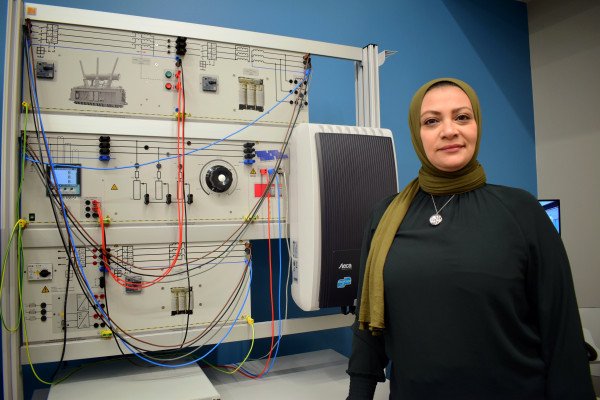 Education:
Bachelor's degree in Electrical Power Engineering, University of Mansoura, Egypt
Master's degree in Electrical Engineering, Tennessee Technological University
Professional Affiliations:
Institute of Electrical and Electronics Engineers (IEEE)
Eta Kappa Nu, the IEEE's international honor society
The National Society of Black Engineers
The Society of Women Engineers
What is something unique or important for people to know about your program?
The Electrical Technology program at Herkimer College is a unique place to start a career in technology. Students learn the required skills to secure jobs in the field of power and renewable energy. Being in the SUNY system allows graduates to seamlessly transfer to a four-year school in SUNY system. Our students benefit from brand new state-of-the-art technology in the labs, and our small class sizes (especially in labs) provide an excellent hands-on experience for students. Lastly, our location is close to many industrial companies in upstate New York providing many opportunities for our students and alumni.

What inspired you to become an educator?
As a female engineer, I believe in education for everyone especially girls, minorities, and underrepresented groups everywhere. Attracting students to the STEM field is my passion. That is why I decided to be an educator -- to help students, especially from the aforementioned groups, to pursue careers in STEM.

What do you find most rewarding about teaching and why?
I get rewarded every time I see the student evaluations and every time I see the AHA moments that indicate students' understanding. Moreover, helping students to help themselves in education and in their career is a great feeling.

What do students need to know in order to succeed in college?
Study hard, be proactive, and time management are the three main factors to success.

What new courses do you hope to teach in the future?
Renewable energy and smart grid.


What are your hobbies or interests outside of work?
Tennis and traveling.