Herkimer College Students Complete Internship at Adirondack Scenic Railroad
Jayre Reynoso-Alcantara & Kyria Plunkett
Business: Travel & Events Management A.A.S., Herkimer College
---
Many college programs offer students the opportunity for internships in order to relate theory from the classroom to a practical work environment. A hands-on internship experience is built into Herkimer County Community College's Travel & Events Management program with internships ranging from 60 to 120 hours and three to six credit hours.
"Our internship program began in 1973 and we've placed our students with Disney, Turning Stone Casino, the Stanley Theater, Travelodge, Radisson Hotel, Otesaga and many more," said Associate Professor of Travel & Events Management Debra Sutton.
Sophomores Kyria Plunkett (of Herkimer, NY) and Jayre Reynoso-Alcantara (of Hudson, NY) recently completed internships with the Adirondack Scenic Railroad. Sutton assisted them to secure their internships through Erin Crowe, a 2011 Herkimer College graduate, who works for the organization. Both students had multiple responsibilities including research, filing, ticketing, customer service, tracking and event management.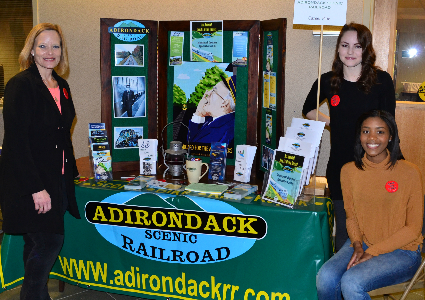 "I'm glad I did this," said Reynoso-Alcantara. "I thought we were solely going to be working on the trains, but I was involved in so much more than that!" We saw the background planning and mechanics needed to make an event successful which was so interesting."
Plunkett had a similar experience stating, "This is hopefully going to be my way into a career in events, and I'm grateful for this opportunity. I've learned how important it is to communicate and network…to-do lists are valuable as well!"
To become the first interns from Herkimer College at the Adirondack Scenic Railroad - both students had to apply - so a cover letter, resume and list of references had to be completed for an interview to take place. "Ms. Sutton helped us land this position," said Plunkett. "She told us exactly what we had to do in order to stand out."
Both students landed the internship by the end of February 2016, and have not looked back since. Just a month later both are close to fulfilling their hourly requirement, but hope to stay working with the company afterwards.
"I feel like I'm helping a good cause," said Reynoso-Alcantara. "And the casual setting there makes it easier to come back every day."
For more information about the Adirondack Scenic Railroad, visit their new website at http://www.adirondackrr.com/adkrr/.
The Travel & Events Management program is one of more than 40 degree and certificate programs offered at Herkimer College. The program can be completed on-campus or online and is designed to prepare students for transfer to a four-year institution or for employment in the field. For more information, visit www.herkimer.edu/travel.