Herkimer College baseball coach Jason Rathbun collects 500th win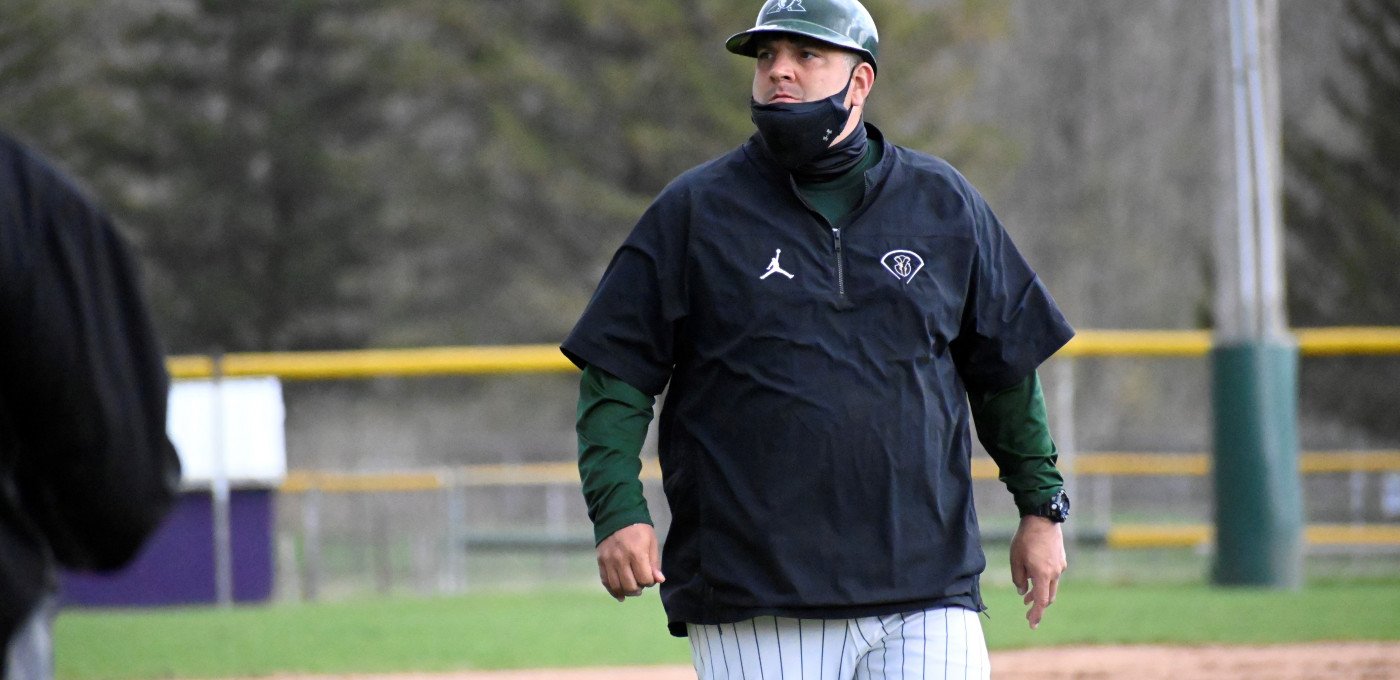 LITTLE FALLS, NY--Seven Region III Championships, 12 Mountain Valley Conference Championships, 16 Coach of the Year awards... and now 500 wins.
Coach Jason Rathbun reached another milestone in his record-setting coaching career at Herkimer College on Tuesday, April 20. He led the Generals to a 16-6 Game 1 win over Tompkins-Cortland Community College, collecting his 500th career coaching win in a little over 15 seasons, averaging 30 wins per season in that time.
Rathbun, a native of Little Falls, has been named District A Coach of the year seven times, Mountain Valley Conference Coach of Year six times, and Region III Coach of the Year three times. His teams have finished in third place four different times at the NJCAA Division III World Series and placed in the National Poll for all 15 years he has been at the helm.
The win was the first of two on the day for the Generals as they also beat the Panthers in Game 2 by a score of 8-0.
The Generals raced out to a 10-0 lead in Game 1 and looked to close out the Panthers in the top of the fifth before TC-3 responded with a siz run rally to cut into the deficit to four at 10-6. The Panthers could have done more damage, but Ryan Peters (Watertown, NY) struck out two batters with the bases loaded to end the rally and eventually earn the win on the mound. The Generals responded in the bottom half of the frame with a six-run outburst of their own to earn the five-inning victory.
Yuzuki Okamura (Shiga, Japan) went 2-4 with three RBI's. Dakota Britt (Rockwell, Texas) and Robert Conley (Utica, NY) each blasted 3-Run home runs, while David Flora (Windsor, NY) and Ty Gallagher (Saugerties, NY) each collected two hits in the game. It was the 13th time in 19 games that the Generals offense produced double-digit runs.
The Generals wasted no time making sure Coach Razz got started on the next 500 in his career in Game 2, scoring three in the first inning and adding four in the 6th to secure the win. Kyle Caccamise (Hopewell Junction, NY) and Sal Carricato (Farmingville, NY) each collected two hits, as did Dakota Britt. Rylie O'Connell (Peru, NY) got the win, pitching six shutout innings while only allowing two hits and striking out four. Eddie Rogers (Little Falls, NY) threw a perfect 7th to secure win 501 for Coach Rathbun.
Herkimer, now 18-2 overall and ranked No. 5 in the latest NJCAA Division III Poll, will now travel to Gutchess Park in Cortlandville, NY on Thursday for the second doubleheader in the home and home series against TC-3. The first pitch is scheduled for 2 p.m.
Congratulations once again to Head Coach Jason Rathbun for his remarkable achievement!