Point of Pride #1 - Our Students
June 13, 2016
Our students come from all corners of the world (27 different countries this year!), walks of life, young and old. Though each has their own specific goals and dreams for the future, the one thing they all have in common is that they are looking to Herkimer College for opportunities, support and guidance to help them move successfully along their path to reaching those goals and dreams. From lectures, field trips and internships to campus and community activities, student government and athletics, our students find numerous ways to develop skills, gain confidence, and learn about themselves. Through their experiences at Herkimer, they are able to overcome challenges, and create opportunities for themselves which might not have been present before. At Herkimer College, we are very proud of our students and the success they achieve here at Herkimer and beyond. Two students who are wonderful examples of this are Teddi Cromling and Timothy McKenzie.
When Teddi Cromling enrolled at Herkimer College, she was a 46 year old recently divorced woman with a minimum wage job, living on the hope that she could survive another day. Teddi was afraid of what lied ahead, but she found the strength and encouragement to get involved in many activities offered through our Center for Student Leadership & Involvement, joining the History and Gaming clubs. She embraced the chance to hone in on what really interested her, and eventually became co-president of the Student Activities Committee, a student ambassador and treasurer of the Student Government Association. Going into college, Teddi never could have imagined that one day she would be selected to represent her class by giving the student address at Commencement. It was in front of nearly 2,000 people at graduation that Teddi publicly shared her story, with grace and humor, and she became an inspiration for countless others.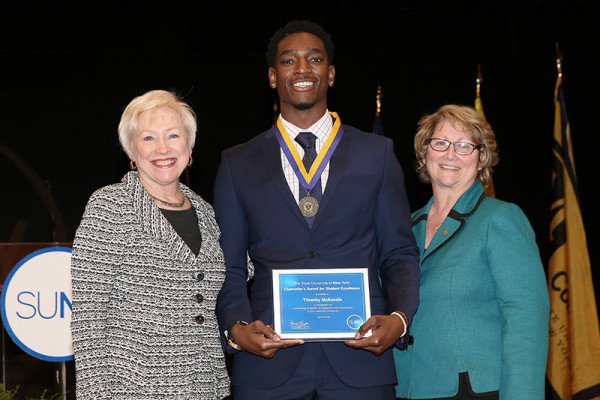 Tim McKenzie, from Central Islip, NY, came to Herkimer College after a serious knee injury derailed his athletic chances at another institution. It was through the basketball program that Tim learned of the many opportunities available to him. He became a resident assistant, admissions tour guide, peer tutor, member of the Judicial Review Board and a starter on the nationally-ranked Generals basketball team. No stranger to adversity, McKenzie turned his past into a bright future. His efforts culminated with the SUNY Chancellor's Award for Student Excellent, a prestigious award recognizing academic excellence with accomplishments in the areas of leadership, athletics, community service, creative and performing arts, campus involvement and career achievement. Tim graduated with honors, earning an A.A. degree in General Studies, and is now participating in a six-month internship at Whitestone Academy in China where he is working with young children, coordinating student activities and teaching American culture. He plans to attend Clarkson University on a leadership transfer scholarship upon his return to the United States.
Teddi and Tim are only two of the more than 22,000 alumni who have successfully completed their degrees at Herkimer, and those students each have their own success stories. So our very first point of pride, in our quest to identify 50 points of pride this year, is OUR STUDENTS!