Point of Pride #33 - The Advisement Center
May 30, 2017
When it comes to getting a degree, staying on track is crucial. The Advisement Center, staffed by a director and two advisement specialists, is responsible for keeping students on the path to graduation and helping with any roadblocks or confusion along the way. The Advisement Center is a critical component in the College's retention and completion efforts.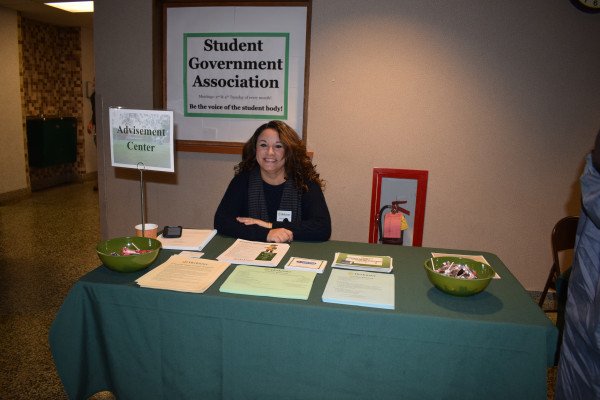 Although most students are assigned faculty as academic advisors, the Advisement Center staff also carry large loads of advisees and also are a back-up for other advisors. They are available year round to help students plan their programs of study and guide them to achieving their academic goals.
A recent successful initiative of the Advisement Center is "Advisement on the Run." During peak registration times, Katie Scanlon, Director of the Advisement Center, is stationed outside the café to assist students with advisement and registration on the spot. The convenience of Advisement on the Run is in the fact that students can receive academic advisement and registration assistance easily and quickly without needing to make an appointment.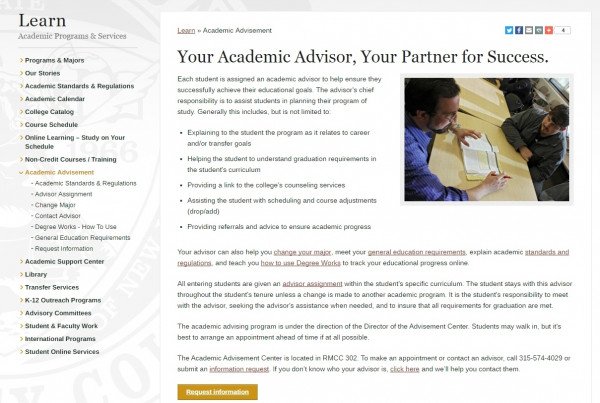 Advisement Center staff are also actively involved in the implementation of a new Starfish retention system and development of the institution's Enrollment Management and Marketing plan.
A huge thank you to the Advisement Center for all they do to ensure student success! The Academic Advisement Center is located in RMCC 302. To make an appointment or contact an advisor, call 315-574-4029.