Point of Pride #41 - The Herkimer College Bookstore
February 7, 2019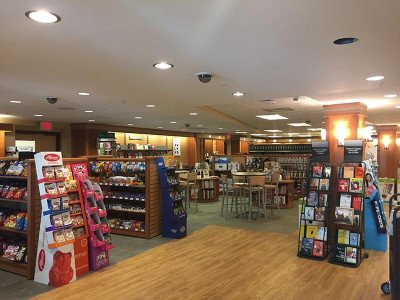 Herkimer College's bookstore offers new and used book textbooks, as well as digital and rental options. However, the bookstore offers much more than instructional materials. Located on the first floor of the Library Building, the campus bookstore is a one-stop-shop for school and tech supplies, snacks, gifts and Herkimer College apparel. Now under management of Barnes & Noble, it's the place to stop in for a quick cup of local Utica Coffee Roasting Co. coffee or to browse the large selection of school apparel.
The bookstore underwent a major renovation over the summer of 2018, creating a new layout and a more open and unified space. "Openness and visual quality is huge for us, as an open environment creates a great shopping experience," said store manager Sarah McMichael. "Textbooks were moved to the main sales floor, a barrier wall and the gate system were removed, the snack area was moved, and new glass doors were installed to help bring in natural light. Removing the barrier wall opened up the space and allowed for a centralized snack and convenience experience. Tables and chairs and more space for trade books were added to bring in the feel of a Barnes & Noble store that traditionally comes when hearing our name," McMichael said.
Visit the bookstore on campus or 24/7 on the web at herkimer.bncollege.com.