Point of Pride #42 - Career Services for Students & Alumni
February 8, 2019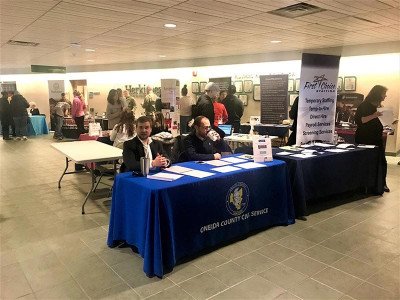 Herkimer College offers a variety of career services for students and alumni. Students who are undecided about their education and career plan are often referred to assessments. These online assessments may be accessed anytime; however it is often advised that students make a follow up appointment with the Career Counselor to further discuss their results.
Students are encouraged to work with our employment coaches to discuss all aspects of transitioning into the work force. Employment coaches can help with job search strategies and planning, including help with cover letter and resume writing, mock interviews and practice before a job is on the line. Students are encouraged to develop a resume early on as resumes are an effective tool to be used for applying for part-time employment, internships, preparing transfer applications or scholarship applications and will be needed when seeking your first career oriented position.
Early in the fall semester Career Services organizes a part-time job fair to allow students an opportunity to meet with representatives from businesses that have part-time jobs available. In the spring semester, the College holds an annual Career Fair with more than 70 employers represented. While geared toward full-time, career level employment, some employers will also discuss part-time, seasonal or internship opportunities. These events are excellent networking opportunities for students to dress for success, bring their resume and possibly launch their career.
Connecting Herkimer College students and alumni to businesses and organizations is a core function of the Career Services Office. We assist graduates who are looking for full time employment; as well as current students looking to round out their academic program with a part-time job or internship to obtain real world experience. In addition to students gaining needed experience, the talent pool available to regional businesses and organizations is also deepened. Career Services makes that connection through our HireHerkimer career management platform where all types of career opportunities are posted (part-time, full-time, internship, nationwide or on-campus). Students and alumni can search for opportunities, upload their resume, create a professional profile searchable by employers and can read articles and watch videos on how to develop their career.
For more info regarding Career Services at Herkimer College, visit Career Services or call 315-866-0300 x8284.