Point of Pride #48 - Center for Student Leadership & Involvement
August 14, 2019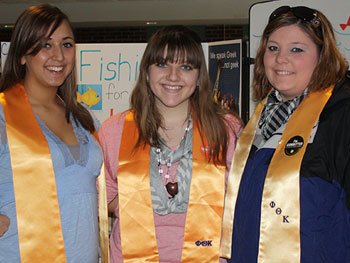 As a student at Herkimer College, there are a variety of ways to get involved on campus and enhance your college experience. Our Center for Student Leadership & Involvement offers more than 300 co-curricular and extra-curricular activities per year, often in collaboration with other departments. There's something for every interest, from movie nights, Takeaway Tuesdays and Wacky Wednesdays, to large events such as Fall Fest.
The best way for students to get the most out of their college experience and meet peers is by joining one or more of the many clubs on campus. Currently there are 25 active clubs and organizations ranging from focusing on professional development like the Education Club and the Entrepreneur Club, to hobbies such as the Gaming Club and the A cappella Singing Group. Students can also develop leadership skills and make a difference on campus by participating in the Student Government Association or becoming a Student Ambassador. For a complete list of student clubs and organizations, visit www.herkimer.edu/clubs
The Center for Student Leadership & Involvement also supervises Alumni Hall and the game room, where students can relax and have fun during their free time.