Point of Pride #47 - The General's Cupboard
August 13, 2019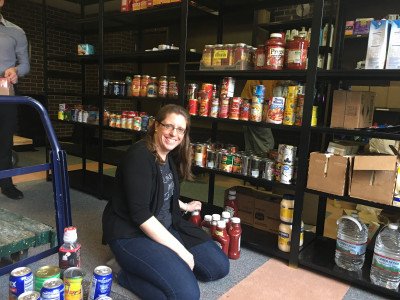 Higher education is a privilege not guaranteed to all, and sometimes it may be easy to overlook what students and their families are willing to give up for the experience of going to college.
A study by the Hope Center for College, Community, and Justice found that approximately 48 percent of surveyed students in two-year institutions across the U.S. experienced food insecurity within the last 30 days. More than half said they worried whether their food would run out before they had money to buy more, and 27 percent reported skipping meals because they had no food.
We don't want our students to be among those statistics. That's why Herkimer College opened The General's Cupboard in fall 2019.
While the College previously assisted students in need with food and personal items on an informal basis through the Campus Safety and on-campus Residence Life offices, a more systematic and sustainable approach to food insecurity on our campus was necessary.
The General's Cupboard is a free, on-campus resource for all Herkimer College students. Located in room 117A of the Robert McLaughlin College Center, the General's Cupboard stocks a variety of canned and packaged food and other non-perishable items, as well as personal care items. Students are encouraged to come in and take what they need during the Cupboard's open hours, or to make individual appointments through the student portal. The service is completely confidential to ensure privacy and dignity to all of our students.
For more information on the service, or if you're interested in donating to The General's Cupboard, visit Herkimer.edu/cupboard.