Mark M. Ainsworth, OD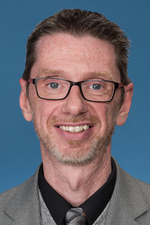 Mark M. Ainsworth, O.D., of Herkimer, was appointed to the Herkimer College Board of Trustees in 2015 by Governor Andrew Cuomo, with his term to expire on June 30, 2022. Dr. Ainsworth is owner of Herkimer Eye Care Center and is a board member for the Village of Herkimer.
He served as the Village of Herkimer mayor from 1999 to 2014 and Village of Herkimer trustee from 1996 to 1999. Dr. Ainsworth is a member of the Herkimer Rotary and a Eucharistic minister at St. Francis De Sales Church.
He holds a BS in Biology from St. John Fisher College and a Doctor of Optometry from Pennsylvania College of Optometry in Philadelphia, PA. Dr. Ainsworth is a member of the Mohawk Valley Optometric Society, NYS Optometric Society and American Optometric Society.