Personal Counseling
Do not suffer in silence. The Counseling Center can help!
It is common for students to experience challenges that can be helped with counseling. Whether you are a traditional student or a person entering college later in life, the road to academic success can be bumpy at times. The counselors are ready to listen, without judgement, and help you figure out the next step. If we cannot assist you, we will refer you to college offices, community services, or emergency services that can. We can also point you in the direction of the right resources.
To make an appointment, call the Counseling Center at (315) 574-4034, email them at counseling@herkimer.edu, or stop by the office located in CA 130.
If you are experiencing suicidal thoughts or know of another Herkimer College student who is, contact one of the following as soon as possible:
Campus Safety: 911
National Suicide Prevention Lifeline: 1(800) 273-TALK (8255)
Suicide Prevention Center of New York State Crisis Text Line: Text Got5U to 741-741
The Counseling Center (8:30 a.m. to 4:30 p.m.): (315) 866-0300 x8284
Mobile Crisis Assessment Team (MCAT): (315) 732-MCAT (6228) -- they are available 24 hours a day, 7 days a week
Local police department, if living off campus: 911
The General's Warmline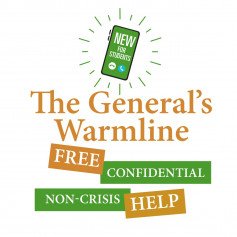 For less immediate assistance, students can use our new General's Warmline. The General's Warmline is a free, confidential, non-crisis telephone line. Students can call the number during designated evenings to talk about struggles related to the pandemic, stress, anxiety, or any other non-crisis personal concern. Note: The General's Warmline is only available during the normal academic year. It is not monitored over the summer.
Don't take your mental health for granted. It is just as important to attend to your mental health as it is to your physical health. Check out our Resources Page for helpful information on wellness and self-care.