Isabella S. Crandall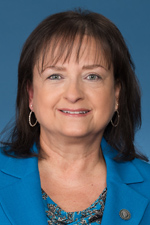 Chairperson
Isabella Crandall has served on the Herkimer College Board of Trustees since 1999. Since that time, she has held positions as secretary, vice chair, and her current role as chair of the board. She serves on the Executive and Personnel Committees of the Board of Trustees, and is the board's NYCCT delegate and NYCCT legislative delegate in addition to serving on the Board of the Herkimer County College Foundation. Originally appointed by Governor George Pataki, she was reappointed by the Herkimer County Legislature for a term to expire on June 30, 2026.
Mrs. Crandall's leadership has contributed to the growth of the campus, several innovative initiatives, and the creation of new academic programs and policies, earning her the Marvin A. Rapp Award for Distinguished Trustee Service. The award, given by the New York Community College Trustees (NYCCT), recognizes community college trustees with dedicated and effective service over an extended period of time.
A veteran special education teacher of more than 35 years, Mrs. Crandall's devotion to the educational efforts of her community is unmatched. She is a member of the Association of New York State Educators of Emotionally Disturbed (ANYSEED) and Kappa Delta Pi National Honor Society in Education, and participates in arts in education programming in Central New York.